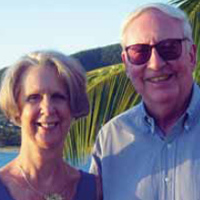 "The School is a member of my family. The Lower School was my neighborhood."
Nancy Hunnewell Torti '60 literally grew up on campus. Her mother, Nancy Balis Morse, was the head of the Buckingham Lower School from 1946 to 1972. Nancy began her studies at the School at age four and continued on until her graduation.
Over the past few years, Nancy has become increasingly involved at the School. Nancy is one of the leaders of the Buckingham Five, a group of alumnae who spearhead outreach to the Buckingham women for the Opening Minds Campaign. And Nancy is a member of the Almy Society, a special group honoring those who have included the School in their charitable estate plans.
"The School was so much a part of my life, so much a part of my past—and now my present. The School was fundamental in shaping who I am today."
In 2007, Nancy made two very significant moves in showing her financial support for the School. Firstly, Nancy made a generous pledge that qualified her to participate in the Opening Minds Campaign Alumni(ae) Challenge—a 1:1 match of gifts $25,000 or greater. Secondly, Nancy named BB&N as a significant beneficiary of her estate.
In coupling her gift to the School with a present and future commitment, Nancy fully expressed her belief that the School "trains the leaders for tomorrow to advance and reform their communities and the world. The School's emphasis on scholarship, financial aid, diversity— all of this is extremely important in how the School educates young people—the core of the School is about shaping future leaders. BB&N does a fabulous job in creating a culturally enriching environment that is representative of the real world, and this contributes immensely to the future success of our students."
After attending Buckingham, Nancy graduated from Goucher College and Simmons College School of Social Work. Her career was dedicated to furthering mental health in a variety of clinical settings. She resides in Lincoln, MA with her husband of nearly 40 years, Maurice L. ("Moe") Torti. In addition to tennis, gardening, and volunteer activities, Nancy has traveled to China several times to pursue her interest in textiles and embroidery.