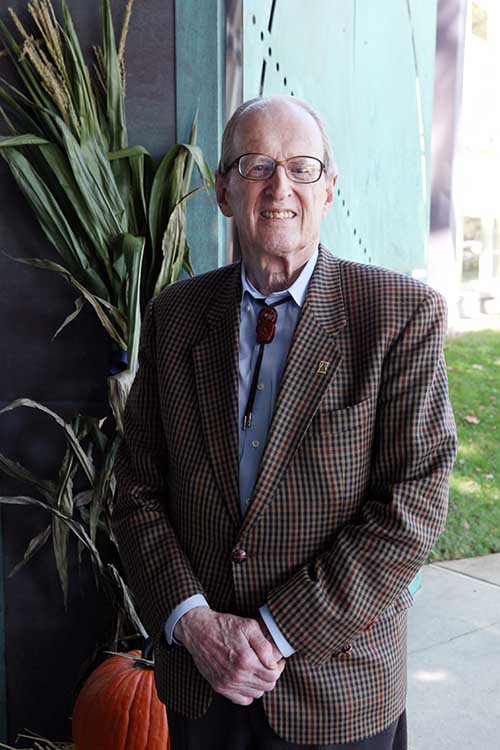 Although Ben Wright '40 had an unusual journey through BB&N, his loyalty to the School remained strong throughout the 75+ years since he attended both Buckingham and Browne & Nichols.
In the early 1930's following the death of his father, Ben moved with his mother, brother, and sisters back to their family home in Cambridge. Ben attended Buckingham in the 4th and 5th grades along with sisters Sylvia Wright Mitarachi '34 and Phyllis Wright King '37 while their mother (Margaret "Margot" G. Stone Wright) worked as a secretary and taught French at the B&N Lower School.  
Ben attended B&N from 6th through 10th grade and after his mother passed away, the Headmaster suggested that Ben finish his schooling at Governor Dummer Academy as a boarder. He went on to attend Harvard before being called to serve in World War II.  After graduating from Boston University Law School in 1950, Ben spent his career as general counsel at The Badger Company, a subsidiary of Raytheon, retiring in 1987.
In addition to the law, Ben's other love was figure skating, which he pursued as a youngster initially at the Cambridge Skating Club and later at The Skating Club of Boston, of which he is a still a member and currently Chairman of the Board. When it became clear that he was not going to be a competitive world class skater, Ben found his way into judging at the age of 19. He served as a referee at 6 Winter Olympics Games and as a referee and judge at 23 World Championships and 25 National Championships. He also wrote the definitive 75th anniversary history of the U.S. Figure Skating Association and the 100th anniversary history of the International Skating Union.
Ben remained a loyal and generous supporter of BB&N over the years and in 1997, he augmented his support by creating a Charitable Remainder Trust (CRT) with low cost basis stock.  By creating the CRT, Ben received a charitable income tax deduction on the full fair market value of the stock and he also receives a quarterly income for his lifetime, after which time BB&N will be an ultimate beneficiary. Ben recently told BB&N, "I am so grateful for the experiences I was able to have at BB&N that I created the CRT in recognition of what the School did for me."
Through this commitment, Ben is a member of BB&N's Almy Society which recognizes those who have made a gift to the School through their estate plans or through a life income gift like Ben's CRT.  For more information about membership in The Almy Society and gift planning opportunities at BB&N, contact Janet Rosen at 617-800-2729 or jrosen@bbns.org, or visit bbns.plannedgiving.org.