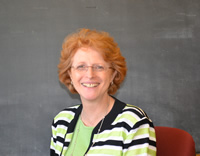 Janet Storella '74, M.D. looks back on her time at BB&N as a period that allowed her to foster her intense interest in math and science. "I choose to give back to BB&N because of the impact I'm making at the school with my gifts. I enjoy perpetuating the unique characteristics of the School's incredibly talented faculty-the individuals who find each student's potential and then diligently work to bring it out to its fullest."
Today, as a physician working in the highly technical field of radiology, Janet is grateful to her high caliber teachers, like Doc Walters, for having a profound influence on her life and for the unique curriculum that BB&N offered (and continues to offer) its students. She also recognizes the School's pioneering ways from when she was a student, such as offering coursework in Asian history and encouraging women to consider the sciences as a career path.
Janet chooses to support BB&N annually because "what I gained from the School really changed my life." Recently, she notified BB&N that she has also provided a gift in her estate plan for the School, making her a member of the Almy Society. "By making a gift in this way, it allows me to provide a little bit more to BB&N than I would be able to do right now," says Janet. "I hope others will consider this kind of gift-I feel that it is an easy way to make a significant impact on the future of BB&N."