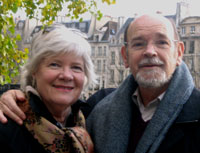 A loyal Browne & Nichols alumnus for many years, Richard (Dick) Chalfen '60 recently reflected that "B&N crept up on me in ways I can never repay. Becoming a member of The Almy Society is a step in that direction."
One of Browne & Nichols' first two Lifers, Dick commented that "I would be the first to acknowledge that I was not an academic star while at B&N in the late '50s. I aspired to be a star athlete, though that didn't always work out either (he was co-captain of the soccer team, however) but I was happy with the activities and all the friendships I made.
"My point is that I knew I should have been more attentive to classes and coursework—the school was always working on this in both explicit and implicit ways. It took until junior year at the University of Pennsylvania (where he received a B.A. in Anthropology) for it all to click. I had a chance to exert and renew my B&N training, to play varsity soccer, and demonstrate some sense of academic prowess. This earned me scholarships to graduate school (receiving an M.A. and Ph.D. in Communications from UPenn) and a full professorship some years later."
A Professor of Anthropology at Temple University for many years, including ground-breaking work in the field of visual anthropology, Dick is currently a Senior Staff Researcher at Boston Children's Hospital's Center on Media and Child Health. In recognition of his many professional accomplishments, he received BB&N's Distinguished Alumnus Award in 2005 and the 2009 Lifetime Achievement Award by the Society of Visual Anthropology.
A longtime BB&N Annual Fund volunteer, donor, and Class Secretary, Dick recently notified the School that he had included BB&N in his estate plans through a bequest intention in his will, ensuring that his lifetime of support will continue to benefit his alma mater for years to come.