A Foundation Built on the River will Provide for BB&N's Future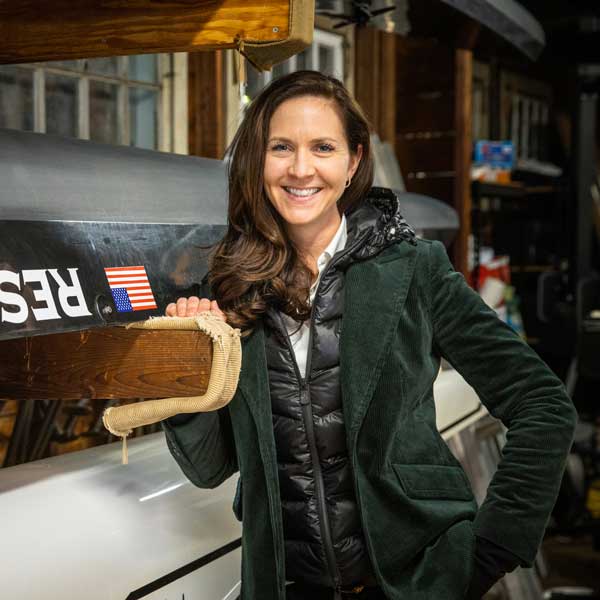 Meg Barry's love of rowing dates back to her time as a BB&N Middle Schooler. Entering in seventh grade following her older sister Jennifer Barry Donovan '91, Meg had strong academic skills but was particularly drawn to the school's athletic program, participating in soccer, volleyball, and crew.
In addition to competing on BB&N's girls crew teams, Meg's love of rowing provided her with a number of transformative high school experiences including a trip to St. Petersburg, Russia in the summer of 1991 with the BB&N girls crew team. Along with the boys crew team, they were the first U.S. high school rowing teams and the third U.S. teams to compete in Russia, partnering with the Znameya Rowing Club through connections made possible by former BB&N Russian teacher Armen Dedekian's longtime exchange program with a Moskow school. The following year, Meg and other BB&Ners also had an opportunity to travel to Eton College in England to participate in a summer rowing camp.
Beyond her love of rowing, BB&N provided Meg with a strong academic foundation that helped her "learn how to learn," and she found herself much better prepared than many of her classmates at Connecticut College where she majored in anthropology and religious studies.
Soon after college, Meg made her way to the west coast and settled in Seattle, where she met her husband Peter Hoffmeister through the local rowing club. She still actively participates in the sport and returned to BB&N this fall to row in the Head of the Charles as a member of the BB&N alumni/ae women's eight. When not on the water, Meg leads a very busy professional life as president of the international high-end real estate marketing firm, www.luxuryrealestate.com.
Several years ago, when Meg and her husband were reviewing their estate plans, they agreed that it was important to include provisions in their will for institutions that had shaped their lives, which for Meg clearly included BB&N. She recently notified the school that she and Peter had left an unrestricted bequest to BB&N, which will enable future generations of students to have the same transformational educational opportunities as she did. They join the many other alumni/ae, parents, and friends who have made similar arrangements and are recognized as members of The Almy Society.

F
For further information about BB&N's gift planning program,
visit www.bbns.org/giftplanning
or contact Roger Fussa
at rfussa@bbns.org or 617-800-2722.