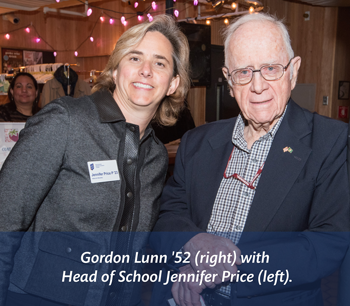 Former BB&N Trustee Gordon Lunn '52 never forgets. Decades and decades, every single year, Gordon gives to The BB&N Fund. Gordon teaches accounting at the College of San Mateo in California, so never forgetting is not surprising. In addition to his annual giving, Gordon has now added BB&N as a significant contingent beneficiary of his estate.
Gordon started teaching at San Mateo after retiring in 2006 after a long career in computer and engineering systems. The retired army officer's work included work on the Apollo Lunar Module radar system. After that success, he helped to create the airline industry's first online inventory system at United Airlines, where he worked for 35 years. 
Reflecting on his life and education—he earned degrees from Harvard College and Harvard Business School—Gordon notes that Browne & Nichols "gave me one of the best educations I could have gotten, and I got a lot of athletics as well." Gordon has often flown from California to Boston to attend Strawberry Night, an enjoyable opportunity to see other alumni/ae who attended school with him. 
Asked why he is such a loyal donor (annually and by estate provision), Gordon notes the strength of his education beginning in the 4th grade at B&N with his teacher Ms. Taylor. Offering another example, Gordon remembers an easy transition to math at Harvard, where he majored in engineering and applied science. Why was the first semester easy? It's a simple answer: his Browne & Nichols math teacher Erie Tucker had already covered almost the entire first semester.
If you are interested in including Buckingham Browne & Nichols School in your estate, please contact Roger Fussa, Leadership and Planned Giving Officer, at either rfussa@bbns.org or 617-800-2722.

Create your will online — it's fast, easy, and FREE to you! LEARN MORE.