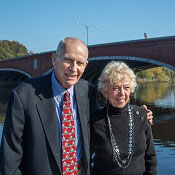 "As we grow older, we reflect on the things that were most meaningful to us in our lives, helped us to grow, and taught us things that brought us pleasure and the successes that we have had in life. For me, Browne & Nichols is foremost in my reflections."
John P. (Jack) Grinold, B&N Class of 1953, shared these thoughts with the School several years ago in commenting on the reasons for his decision to establish a Charitable Gift Annuity to provide steady income to him and his wife Catherine during their lifetimes. Sadly, Grinold passed away in 2017 at the age of 81 but the Charitable Gift Annuity he and his wife established will continue to provide income to Catherine for her lifetime, with the residual supporting BB&N's boathouse operations.
"When I started taking English classes at Bowdoin," notes Grinold, "I found that I was far ahead of my contemporaries, which I owe in large part to my B&N English teachers Mr. Melcher and Mr. Ducey. I received the Browne English Prize at B&N and went on to become an English major in college."
Through his passion for writing, Grinold became a fixture on the Boston sports information scene for more than 50 years. In 1960 he was hired as Assistant Director of PR (and the third employee) of the Boston Patriots−now the New England Patriots− where he ran the contest that named the team. Grinold went on to join the Northeastern University staff in 1962 and over nearly five decades, developed a wide-ranging, innovative athletic communications office and shaped the careers of countless sports information professionals. Grinold had an impressive record of accomplishments in the field of sports publicity and received numerous honors and awards−locally, regionally, and nationally.
A member of the first class to graduate from the Gerry's Landing campus, Grinold played several sports at Browne & Nichols including varsity basketball and tennis, and learned about rowing from friends on the B&N crew team. Shortly after arriving at Northeastern, he was told that the school had started a rowing program and that he would have to learn about this "new sport"−which fortunately was nothing new to Grinold thanks to his time at B&N.
Like Grinold, you can experience the benefits of a Charitable Gift Annuity which can provide a fixed income for life for up to two beneficiaries, while supporting the extraordinary experience that is BB&N.