Continuing a Century-Long Legacy of Support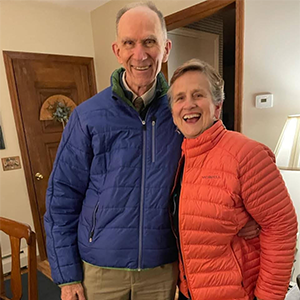 Every single year, decade after decade, Kathy Herzog '62 gives to The BB&N Fund. This year and last year her giving changed slightly: she made the gifts in honor of someone. The someone? Her grandson, BB&N sophomore Louie Varadi '24, who plays on the varsity lacrosse team and particularly loves Latin class.
Kathy's continuous giving to BB&N will live on into the next century and beyond because she has included the school in her estate, and bequest gifts are added to the BB&N endowment. Kathy included BB&N in her estate because of all that it has given in her life and Louie's life, citing the importance of a "top-notch education."
Kathy also supports BB&N as a member of the Grandparent Committee, which recently organized a virtual Grandfriends Day at BB&N's three campuses. A hands-on volunteer, Kathy made closing remarks for the event and has also written to other grandparents to encourage them to support The BB&N Fund.
"Just what I was brought up to do," Kathy says in explaining why she always gives to BB&N. She and her brother Henry Winslow, Browne & Nichols Class of 1956, grew up on Coolidge Hill Road and both graduated from the neighboring Shady Hill School. Their mother, Katharine Winslow (née Nichols), graduated from Buckingham in 1929 and was also a donor to the school.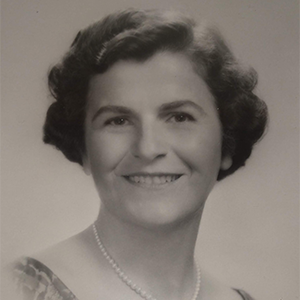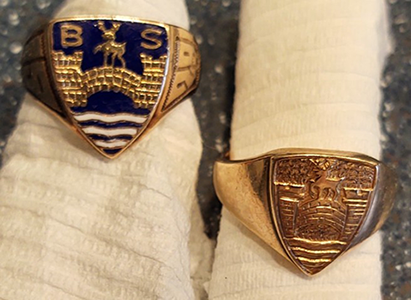 True to their strong philanthropic family culture, Henry has his own impressive record of giving to the school every year for decades, which also makes him a member of the Knights' Circle, BB&N's loyalty giving society. In a way, Kathy illustrates the excellent education she received at Buckingham — another reason she cites to explain her giving to BB&N — with an anecdote: a German book used her freshman year at Mount Holyoke College was the same text book she had as a Buckingham senior!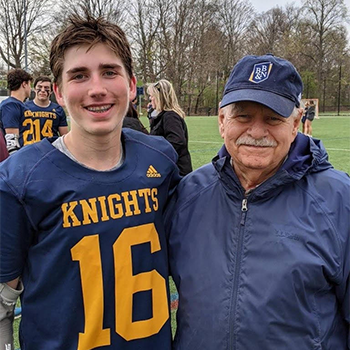 After graduating from Mount Holyoke College and marrying her husband Al, a medical school student and then a medical and psychiatry resident, Kathy taught elementary school before focusing on parenting their two daughters, Trina and Anne. She volunteered in their schools and in her community, was the leader of a Camp Fire group and became president of Hartford's Constitution Council of Camp Fire. Later she became president of the Hartford Hospital Auxiliary, following in the footsteps of her mother who had been a president of the Mount Auburn Hospital Auxiliary. To this day, Kathy continues as a long-time Hartford Hospital Auxiliary board member. She is pleased that she and her husband have been so supportive of their respective volunteer activities.
Along with the Grandparent Committee and regular updates from Louie and his parents, Kathy stays very involved in the BB&N community by joining the monthly Zoom meetings that she and her classmates have. "We are excited," Kathy notes, "that our Buckingham classmate Pam Hardee Jackson is the mother-in-law of Supreme Court Judge Ketanji Brown Jackson." For its part, BB&N is excited to have Kathy's support and such a distinguished family legacy in the BB&N community. Her class looks forward to celebrating their 60th reunion at a future gathering.